Are you sick of paying exorbitant rates for electricity? Home solar panel installation is the solution for long-term savings. Solar panels generate electricity using free and renewable energy from the sun, so you can produce your own power and get away from the grid.
Element Electric is Dixon's go-to residential solar installer for homeowners who want high-quality, top-performing solar energy systems. We install turnkey solar panel and battery systems, and our team handles the entire process—from solar design to installation—entirely in-house.
Solar panel + battery storage installation
Backup generator installation
Free solar estimates
30% federal solar tax credit
Expert support and no-pressure sales
Solar 101: How it Works
Solar panels turn energy from the sun into electricity for your home. It sounds like magic, but it's just science. When the photovoltaic (PV) cells in your panels are hit with sunlight, they generate direct current (DC) electricity. A solar inverter converts the DC electricity into usable, alternating current (AC) electricity, which is what our homes and buildings are wired to use. The AC electricity is sent to your electrical panel, which distributes it throughout your home as needed. Any power your panels generate that you don't immediately use is sent directly to the grid for net metering or stored in a solar battery for later use.
You won't notice any difference in how your lights and appliances work with solar power, but you will see a difference in your electric bills.
Benefits of Solar Power in California
The SEIA (Solar Energy Industries Association) ranks California as the number one state in the nation for solar energy. Solar power is thriving in California and is the future of energy for all of us.
Switching to solar energy in the Davis, Dixon, or Vacaville area has many benefits, including:
Lower electricity bills
Backup power during outages and PSPS events
Increased home value
Solar incentives like net metering and the solar tax credit
A smaller carbon footprint
Going solar prepares your home for an all-electric future and allows you to run appliances like heat pumps, heat pump water heaters, and electric pool pumps with free solar energy. Solar panels also make EV charging much more affordable—with solar panels and an at-home EV charger, you'll be driving for free!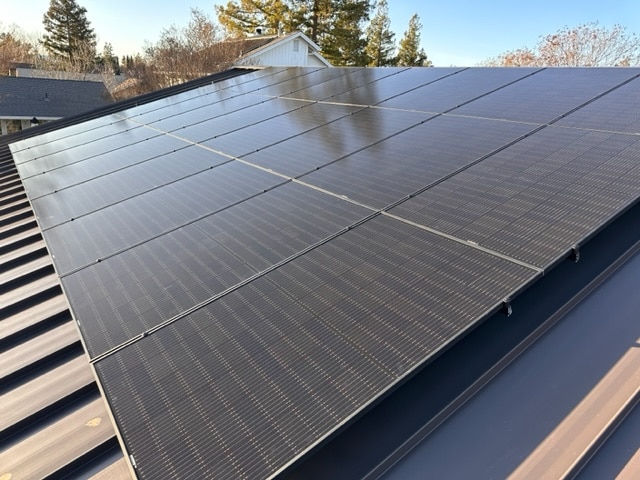 Get Solar Panels for Your Home in Dixon, Davis, or Vacaville
Element Electric has been a leading home solar installer in the Dixon area since 2005, and we make it easy for you to go solar. We are a locally owned, full-service solar panel installation company serving Napa, Solano, Yolo, and Contra Costa counties. We take pride in our workmanship because we are committed to offering the highest-quality and safest installation possible. Our expert team is fully equipped to take care of all of your solar PV and battery storage installation needs. Request a free quote today to get started!